Custodial
The Viriditec Sanitation Solution™ is an all powerful solution to the many day-to-day odor problems. Read our complete list of service below that will eradicate odours and bacteria. One of the many applications that can be applied to is custodial.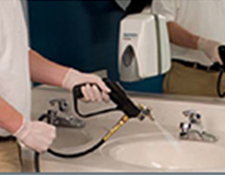 General Cleaning
A natural alternative to using chemical cleaners for everyday cleaning and utilizes a unique, patented technology to combine the natural elements of water and oxygen at the "Nano" scale thus creating an all-natural cleaning solution.
Our products can be used to clean floors and surfaces, rinse fruits and vegetables, even hand washing.